Not that handy with the Pen Tool? But want a way to create the common swirls/flourishes trend objects. Here is a quick method.
Create Vector Shape
Begin with a New > Document Preset of your choice. I used 500×300, White Background Contents at 72 Resolution.
Then set the Foreground/Background swatches to your choice. I used the default Black/White.
Activate the Rectangle Shpe Tool from the Toolbar.
Ensure Shape Layers Option Bar feature is active.
Then drag a narrow rectangle strip as I have captured below.
Create Selection from Shape
Next, Ctrl + Click (MAC:Command Click) directly onto the Shape 1 Vector Mask Thumbnail (encircled in red) to activate it as a selection in the document window (as indicated by the marquee lines):


Add Layer Mask/Disable Vector Mask
With Shape 1 Layer and Selection still active:
Click the Add New Layer Mask icon command at the bottom of the Layers Panel (encircled in red)
The New Layer Mask is added as captured below (encircled in red)
Next, Right Click (MAS:Command click) the Vector Mask thumbnail and from the list choose Disable Vector Mask
The disable Vector Mask should show a red x through it as captured below and all that remains is the Layer Mask Thumbnail.Click once on the Layer Mask thumbnail to make it active/selected.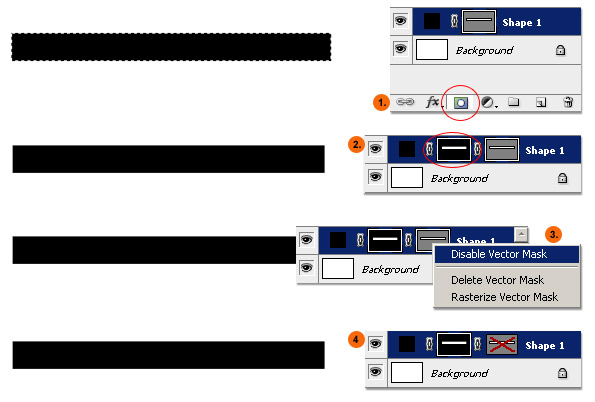 Filter > Liquify
Now with Shape 1 Layer Thumbnail active, go Filter > Liquify menu command.:

Liquify – Twirl Clockwise Tool
Activate the Twirl Clockwise Tool
Set Brush Size/properties
Then Press and hold along the edge to create auto twirls to the Mask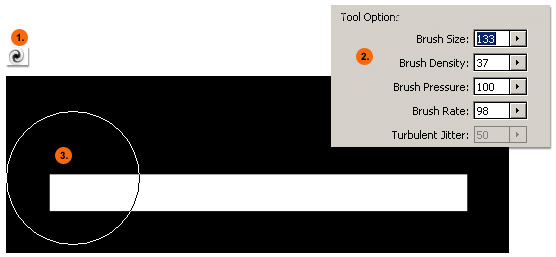 Clockwise/Counter Clockwise Twirls
Click and hold along the edge of the Shape Mask to create the twirls. To create Counter Clockwise Twirls, hold the Al/Option key and apply clicks.
When you decide you have created enough, click OK command to commit the Filter.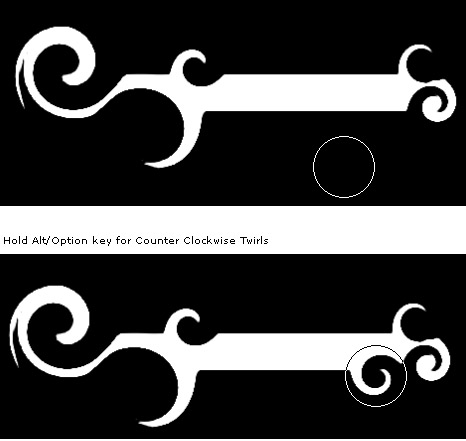 Optional Cleanup
Mor than often, the Liquify Filter does not create a smooth shapes, so to fix that simply apply this two step process on the Layer Mask. 1 – Apply a Gaussian Blur, 2 – then a Levels Adjustment (just pushing the Neutral slider to the right) to correct the jaggies.