Open image of choice in Photoshop, particularly one with a fine/wavy hair line.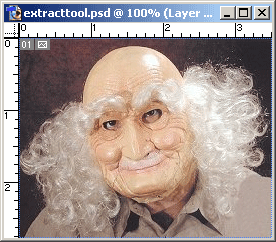 Select the

Highlighter Tool

and paint around the edge of the hair line.

Choose the Red Color Fill and a reasonable brush size of 4.

Zoom in to capture those hard to see fly-away's, Shift + -(symbol) to Zoom out again.

Click Here to see image.

Presto! An easy extraction for such a complicated picture.

I've added a neutral background color so you can see the contrast/difference.
Share and Enjoy